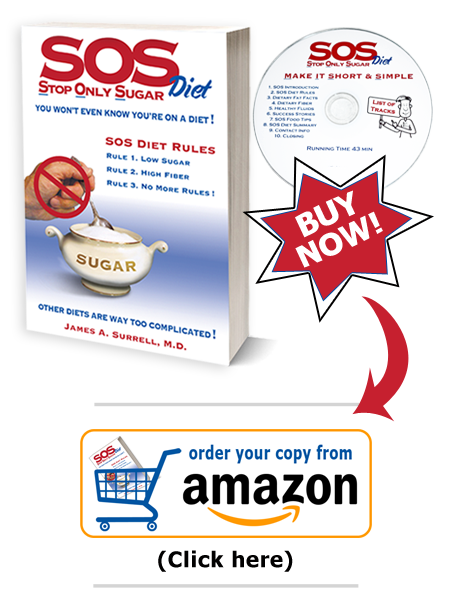 ---
I am down 41 pounds in just 5 months!  This is the easiest diet I have ever been on!  The crazy thing is I don't CRAVE sugar anymore!  I walk right past the sweets and desserts and don't even miss them!   My wife has also lost 30 pounds!  We are doing this together, and it is our new simple healthy lifestyle!
I have lost 35 pounds on SOS and have gone from 200 to 165, and will soon be at my personal goal to weigh 150. Clearly, SOS is the easiest diet that I have ever tried and the only diet I have ever had success with. I had to clean out my closets because my clothes are now all too big. What fun that was!
It has been 5 months since my doctor told me to start SOS.  I was skeptical and never had success on any diet. Well, I am skeptical no more!  I lost 31 pounds in 5 months. I used to be on 5 pills every day for cholesterol, blood pressure and diabetes. I am now down to one pill a day, and may get off that one, too.
Thank you for coming to speak at our employee meeting.  As I told you, I started the SOS diet program about a year ago, after your talk to our group. Just by following the simple SOS Diet rules of low sugar and high fiber, and reading food labels, I lost 72 pounds in one year. I am so much healthier today.
In my six months on the SOS Diet I have lost over thirty-five pounds!  Also, I just had my annual physical. I am so happy to say that after just these few months on the SOS diet my blood work is now fantastic!  My cholesterol and triglyceride levels are now normal and in the past they have been terrible. 
I have been following your SOS (Stop Only Sugar) Diet for about five months. I have tried so many other weight loss programs they all have way too rules, counting, weighing, and measuring for them to work for me.  In just five months, I have lost 36 pounds and I feel great and I am so much healthier.
I want you to know that I bought your SOS book last year and I am so excited to report to you that I have lost more than 80 pounds in one year on your easy to follow SOS Diet. I want to thank you so much for SOS and will stay in touch and keep you posted on my progress.
I started your diet after I purchased your short and simple book about a year ago and I read it in one night. I am quite tall but I was also very overweight. To date I have lost 112 pounds and my husband has lost 30 pounds as well. I am off all medications now, and my own doctor and I are both thrilled.
My cardiologist told me to start SOS Diet because my cholesterol medications did not work to lower my very high cholesterol. He got my attention and I started SOS. In just six short months, my cholesterol went from 290 to 121, and I have lost 25 pounds. Believe me, I recommend your SOS book to everyone.
Since starting my SOS Diet simple lifestyle change 10 months ago, I have lost 50 pounds.  I feel amazingly well and I like to call this my smarter lifestyle. By eating smarter with low sugar I achieved these wonderful results! Thanks for all your research and work that has truly changed my life.